homeoutside®
palette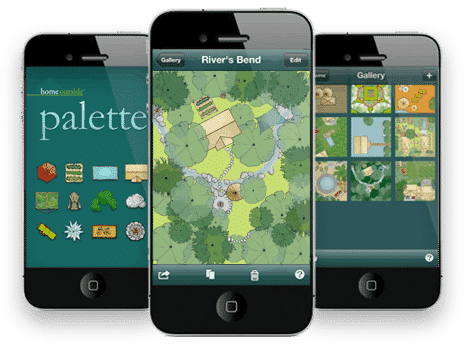 Features
Created by Julie Moir Messervy, acclaimed landscape designer and author of award-winning book Home Outside: Creating the Landscape You Love.
Tools for resizing, rotating, duplicating, deleting, grouping, and flipping elements.
Choice of 12 background colors.
Sample designs by Julie Moir Messervy Design Studios (JMMDS) to inspire or get you started.
Save your designs and share them with friends or with JMMDS.
Works on iPhone, iPod Touch, and iPad. iOS 5 or higher required.
Introducing Home Outside Palette, a new and improved version of our design app.
"Home Outside allows you to create intricate and varied landscapes. Five starter templates can be manipulated in myriad ways to suit your tastes and imagination….And when you're finished designing your yard or indulging in a little dreamscaping, you can e-mail results to friends."
—Kate Murphy, The New York Times

You don't need to know how to draw to create beautiful designs!
Mock up your own property or create an imaginary landscape with hundreds of colorful, hand-drawn elements such as houses, trees, flower gardens, dining sets, water features, paths, and much more.
Go green with clotheslines, a solar-paneled shed, greenhouse, henhouse, vegetable plots, and compost bins.
Use the Home Outside Palette app to plan DIY projects, communicate ideas to designers or contractors, or JUST FOR FUN!